Bookcase layout may be one of the things that many of us do not pay much attention to in designing decoration, but we should know that in decoration, even the smallest points should be considered. With this in mind, in this article, we have tried to review the important points about how to arrange the bookshelves in the house and also introduce beautiful examples of them.
I was a librarian for eight years before I became a writer and worked for various sites; So it is not surprising that I have a little problem with books. It seems that when I do not look at my books, my books are duplicated. This is not something I care about, but in fact, a house that is not filled with books is not a house in my opinion (so you can give me a librarianship certificate!). I also love seeing my favorite things in books. I'm one of those people who enjoys nothing more than leaving myself alone to look at other people's bookshelves (yes, I know this might be rude, but it seems I can not change my morals!).
My bookshelves, although color-coded, are quite functional (you can see one of the pictures in the picture below!). I do not choose books for selective reading, and every book on my bookshelf has been read. I only keep books that I think I will probably read again. But there is no reason why a bookshelf like you see from this shop should not be stylish. Here are some inspirational tips and photos to make your bookshelf layout practical and stylish. As usual, if you think something has been left out of the list, mention it in the comments section of this page! We always like your tips or suggestions.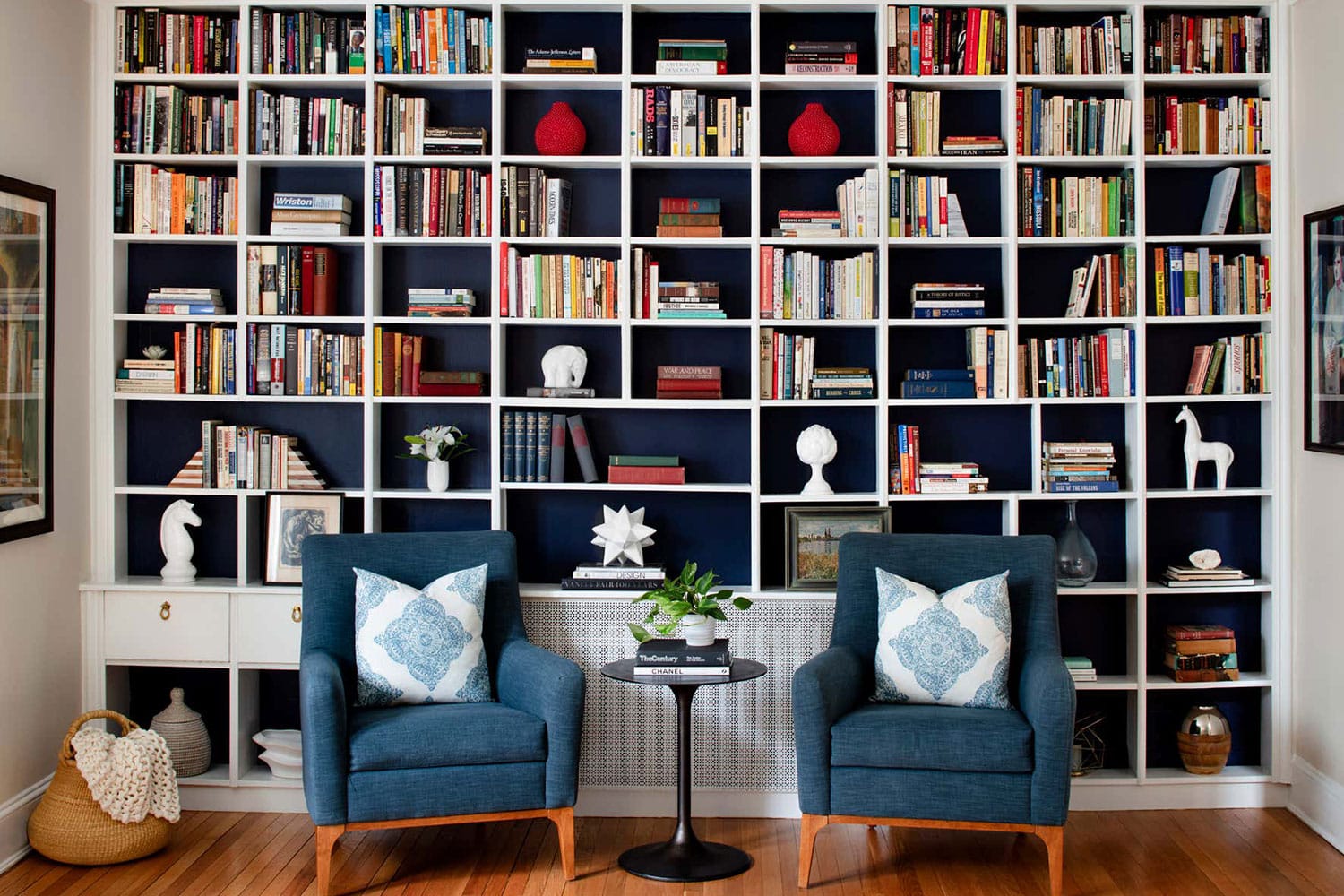 5 tips for arranging a bookshelf
Shake the location of the books. Try a combination of horizontal and vertical bookshelf layouts. Do both on one shelf, then try to arrange the whole bookshelf (in combination) so that one shelf is completely horizontal and the other is vertical. Try to sort the books by color. This is often controversial, but if you have a collection of over 2,500 books, it will no longer be difficult to find the book you are looking for. A librarian will let you do this.
Use decorative accessories and pots. Think of statues and sculptures. A beautiful bowl or plate or even a number of boxes can make your bookshelf more beautiful. Be sure to consider something natural in the layout of your bookshelf. My favorite shelf contains a combination of organic and natural materials. I have a bowl on my shelf filled with stones! You can also use coral, a beautiful oyster, or even plants and pots, see the designs on Greenhouse Decor to learn more on how to mix pots and books in a timber stand. Use artwork to arrange the bookshelf. Be sure to add the artwork to your shelf. You can put small pieces on the shelves or hang bigger pieces on the shelves themselves, you can do this for an English book library.
A bookshelf does not have to be thin (with few books scattered) to look stylish. This shelf works well because the books are in different directions. For visual beauty, small objects are placed in front of the books. This photo also belongs to the library shelf layout in Los Angeles.  You see a bookshelf made of wine boxes and nailed to the wall.
The large size of the shelves is suitable for displaying large objects among the books. This bookshelf is located in one of the houses in Los Angeles and can be called a creative bookshelf. Sorting books by color in the dining room is also an issue in this article. This bookcase is in a house in Washington, DC, where the use of plants in home decoration is well observed. See more designs on Crimson Oak Design.
Want to sort your books by color? Go one step further and arrange your objects by color. In the photo above, you can see the beautiful arrangement of a bookcase in Brooklyn. In this picture, you can see an example of using apartment flowers in home decoration. The natural ones on the shelf are set. This photo belongs to the arrangement of the shelves of leisure libraries in Italy.